Bose Hardware QA & Product Excellence Case Study
Aspiritech is a pioneer and leader in the field of audio hardware testing, with more than 15 years experience.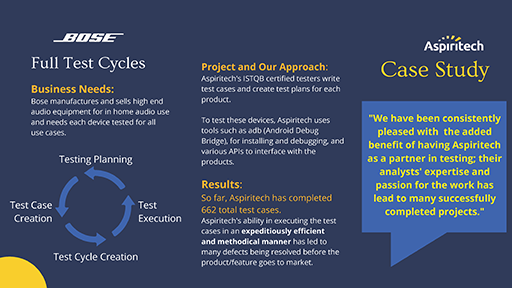 The world's leading headphone company has a reputation for high quality, easy set up and use.
Bose relies on Aspiritech to test across peripherals and platforms to assure a seamless roll out of software upgrades and new features so customers have an optimum experience over the life of their products. Through hardware testing and regression testing, our team ensured proper connectivity prior to product launch.
Barry Clark, SQA Lead,
Audio for Video Product Line,
Bose Corp
"Aspiritech provides us with the manpower and the expertise that we need to get through our SQA testing as well as managing the whole manual testing side of the product line. I find working with their management and their leads is extremely helpful for me to deliver my SQA build requirements at Bose."
BRIAN COHEN,
SR. MANAGER OF SOFTWARE QUALITY ASSURANCE (SQA),
BOSE CORP
"(Aspiritech's) service has exceeded our expectations. The passion they have for our products coupled with their ability to perform hyper focused testing has yielded great results for us and ultimately our customers."
Aspiritech offers hardware testing for headphones, speakers and software connectivity.