Aon Accessibility Case Study
Aspiritech is a pioneer and leader in this field with more than 15 years experience.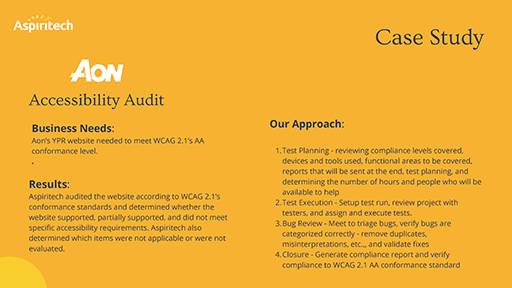 Aon's retirement services are designed to help organizations create and manage secure and successful retirement plans that meet the financial needs of their employees.
Aon relied on Aspiritech to check retirement benefits calculations after migrating its software to a new platform. Aspiritech analysts was able to study the requirements and come up with a spreadsheet of formulas to check the accuracies efficiently.
Venus Jackson,
Pension Administrator Market Leader,
Aon
"I'm blown away...what Aspiritech did takes years to learn, and [the app] took our programmer over a year to complete."
Aspiritech offers hardware testing for headphones, speakers and software connectivity.